Basilica of St. Benedict
The former abbey church and now parish church of St. Benedict was built between 1681 and 1686. Inside the church Georg Asam decorated the ceiling with his first painting in fresco. The Basilica is the first church in Germany which unites all the characteristic features of high baroque style inside. Externally it's built in early baroque style.

The altarpiece was painted by Martin Knoller in 1788. It shows the Holy Trinity at the top, Mary on the left side and St. Benedict – father of occidental monasticism and saint patron of Europe – at the bottom on the right. The clock above the high altar has a spiritual significance: it points to the transience of our lives.

Behind the altar the choir stalls where the monks used to pray are located, connected with the church by windows.

The ceiling paintings represent the cycle of salvation history: birth, baptism, transfiguration, resurrection, ascension, pentecost, the final judgement at the end of time.

The high-rising and well built pulpit with small stern figures and gilded vines still has an early baroque character.

The big baroque organ at the western gallery was constructed by Christoph Egedacher from Straubing between 1682 and 1686.

In 1973 Pope Paul VI. proclaimed the church to the papal "basilica minor" and recommended it strongly as a pilgrimage site. Due to the arm relic of St. Benedict, donated by Charlemagne around 800 and located beneath the main altar, Benediktbeuern applies to Montecassino and St.-Benoit-sur-Loire as third most significant place of pilgrimage to St. Benedict worldwide.

St. Benedict of Nursia is considered as father of occidental monasticism and saint patron of Europe. He founded the Benedictine Order, which acts according to his motto "ora et labora" which means "pray and work".

Chapel of Anastasia
The Chapel of Anastasia, built from 1751 to 1753, is located at the northeast corner of the Basilica. It is considered as a unique rococo jewel. The chapel is dedicated to the martyr Anastasia who died during the persecution of the Christians in 305 by emperor Diocletian. The altarpiece shows the saint as an advocate for people with physical and mental sicknesses.

In 1053 relics of her, especially the head shell, came from the monastery S. Maria in Organo/Verona/Italy to Benediktbeuern. The relics are kept in a precious silver bust.

For more information about the Basilica, services and pilgrimage:
Katholisches Pfarramt St. Benedikt
Dorfplatz 4
83671 Benediktbeuern
tel. +49 8857 692890, fax +49 8857 6928918
www.pfarrei-benediktbeuern.de
info@pfarrei-benediktbeuern.de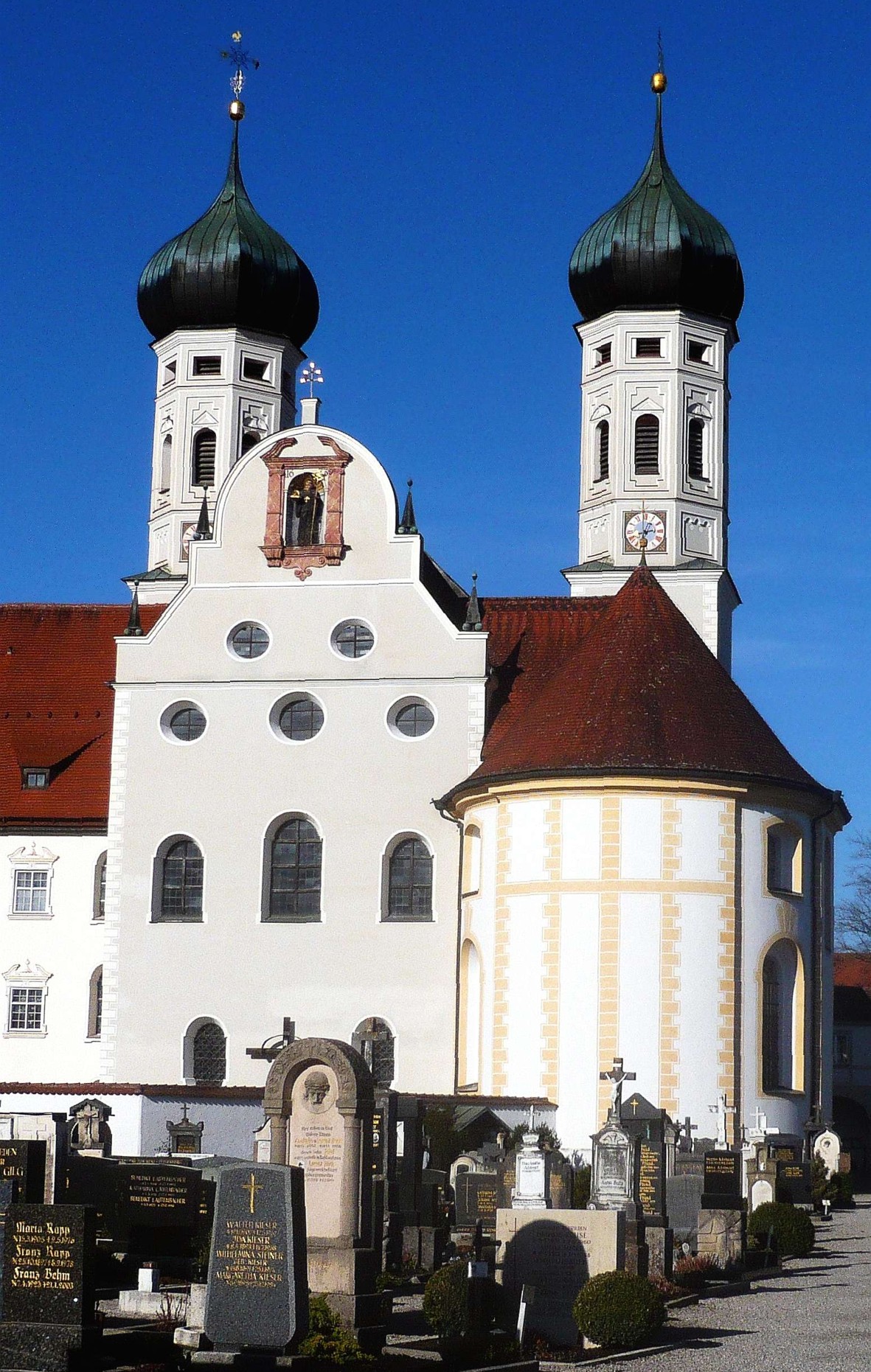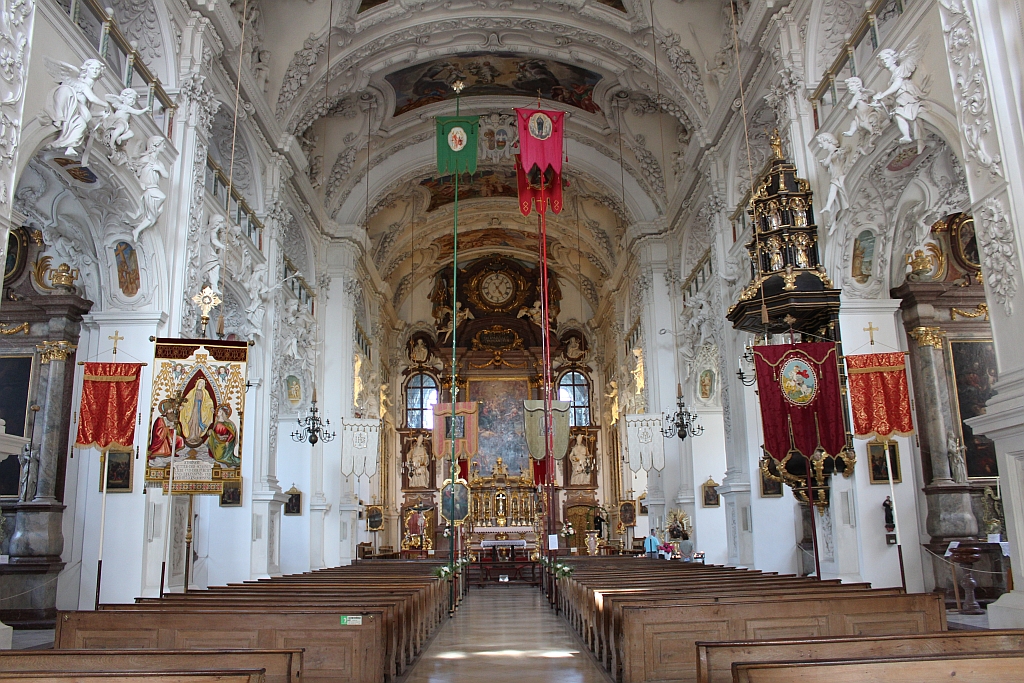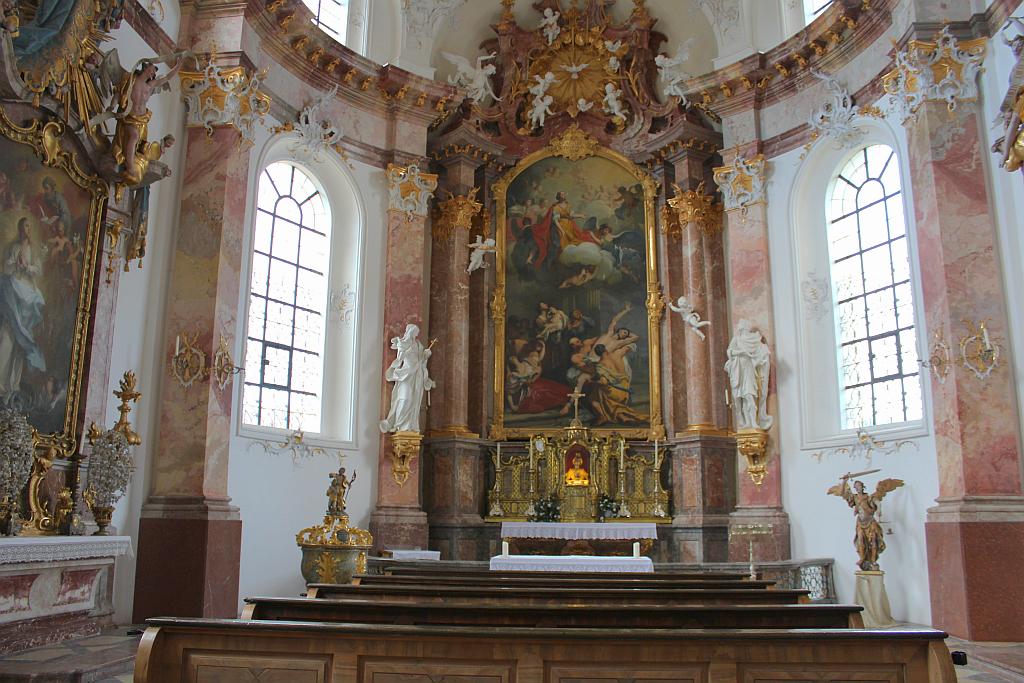 360° panoramic view at the Basilica
Please click at the picture: